3-MAN LEAGUES SOLD OUT!
2-MAN LEAGUE FORMING BEGINNING OCTOBER 24TH
NEW SCRAMBLE FORMAT!
WHO WILL BE THE NEXT X-LEAGUE CHAMPION?
WHO WILL BE THE NEXT X-LEAGUE CHAMPION?
10-Week 2023 Summer X-League
Cost: $350 per player includes 10 weeks of league play and prizes for the top two teams
Warm up at 7:00 tee time at 7:30
Beginning October 24th
Make up a round any time within a week before or after if you can't make a league night.
Anyone can be a sub in the regular season but not in the playoffs (unless cleared by the opposing team)
7-week regular season schedule will be set as soon as all spots sell out.
Regular season matches will 9 holes. Playoff matches will be 18 holes.
The winning team will be awarded 3 points, a tie will result in 1.5 points for each team, and zero points for the losing team.
Playoffs will be the top 8 teams with the most points.
Playoffs will be traditional bracket-style, seeded and reseeded in the second round.
If your team doesn't make the playoffs, or loses in the playoffs. You can come on in and play anyone in any format that you like!
League fees can be paid individually on the first league night.
Optional:
Closest to the Pin for $5 per player each week.
Hole-in-One Club – $20 per player for all 10 weeks – If a hole-in-one is made, the player wins the pot. If no one makes a hole-in-one, the pot is used to cater food and drinks for the league.
Monday Night starts October 23rd. SOLD OUT!!
Wednesday Night starts October 25th. SOLD OUT!!
Tuesday Night October 24th. 
"THE ATMOSPHERE DURING THE X-LEAGUE IS AMAZING AND IT IS A GREAT WAY TO SPEND A WEEK DAY NIGHT. OUR TEAM WILL DEFINITELY BE JOINING EACH NEW SEASON!"
X-League America Champion
Teams battle head to head in a 10 week, handicaped, matchplay format on the world's best virtual golfing simulators. Does your team have what it takes to be crowned the X-League Champion?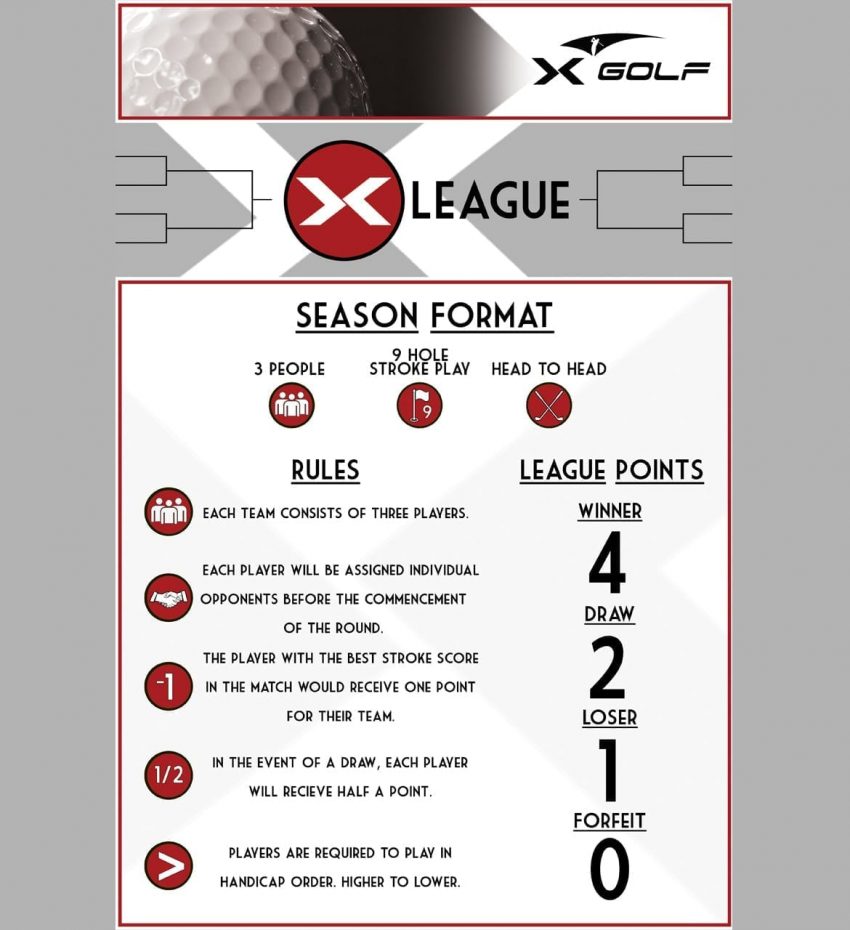 "X-GOLF'S AMAZING TECHNOLOGY HAS REALLY HELPED MY GAME IMPROVE AND I LOOK FORWARD TO THE CONTINUED COMPETITIONS."